PowerXplorer PX5
 PowerXplorer PX5 Features & Highlights
Eight channels, 4 voltage & 4 current
Intuitive color touch screen
Light weight — About 4 pounds, 2 kg — with rugged rubber boot
AC/DC applications
Samples at 256 samples/cycle
Independent voltage & current triggering, cross triggering
High-speed sampling and data capture (1 microsecond/channel)
Oscilloscope-like high speed transient detection (Dranetz 658-like and BMI-8800 like)
Detailed event characterization of RMS variations and transients
THD/harmonic spectrum and TID/interharmonics spectrum to the 63rd
Captures IEEE 1459 parameters for non-sinusoidal and advanced power systems
Remote communications—RS-232, Ethernet or USB
Battery or AC mode
Built in UPS battery with external charger
Available with up to 4GB Compact Flash Memory
Available languages — English, French, Italian, German, Spanish, Swedish, Polish, Thai, Korean, Finnish, Japanese, Chinese (Traditional and Simplified)
DRAN-VIEW enabled (Windows 2000, XP, Vista, 7)
Complies with IEEE 1159, IEEE 519, IEEE 1453
Complies with IEC 61000-4-30 Class A and EN50160
Measures flicker according to IEC 61000-4-15; measures electrical harmonics according to IEC 61000-4-7
Instrument available in 400 Hz measurement version (PX5-400)
Description
Reviews (0)
Applications
Document
Description
The Power Xplorer integrates the most advanced feature set available in a power monitoring instrument, with an easy-to-navigate, color graphical user interface. With high-speed sampling and data capture (1 microsecond/channel), this 8-channel workhorse simultaneously captures and characterizes thousands of parameters, using a range of standard and customizable operating modes. The unique measurement capabilities of the Power Xplorer include capture of low-medium-high frequency transients through peak, waveshape, rms duration and adaptive high-speed sampling, as well as power measurements to clearly characterize voltage harmonics, non-sinusoidal and unbalanced systems.
Applications for the Power Xplorer PX5
 Fast Transient Capture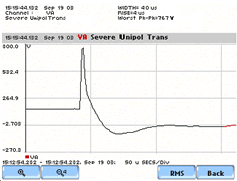 The Power Xplorer uses digitized high-speed
sampling to capture and analyze microsecond-wide
transients (Dranetz 658-like and BMI 8800-like).
The Power Xplorer delivers a full profile, with events
time stamped to the millisecond of the entire transient
  to pinpoint the exact source and cause of the event.
 Power Quality Surveys and Diagnostics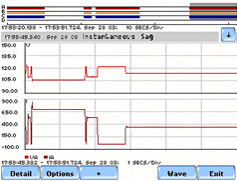 The Power Xplorer has a built-in event
characterizer that directly supports troubleshooting
and the gathering of survey data—for improving
power quality and equipment reliability.
Capacitor Switching Events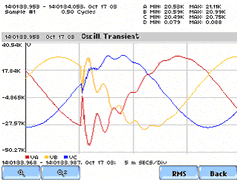 A drawback of capacitors is that they yield oscillatory
transients when switched. These transients can propagate
through the local power system, causing damage to equipment
and processes. The Power Xplorer captures and identifies
these fast transients.
Load Distortion and Imbalance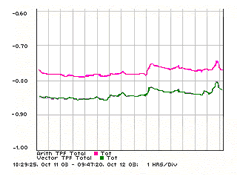 The Power Xplorer measures the full range of
arithmetic, vector and sequencing parameters contained
in IEEE 1459, to evaluate distortion and restore balanced
loads.
Flicker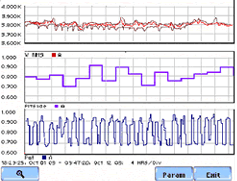 The Power Xplorer captures flicker data
per IEC 6100-4-15, which can be further evaluated
using Dran-View visualization, analysis and reporting
software.
Compliance Monitoring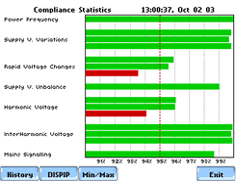 The Power Xplorer has been designed to meet
the most advanced power quality standards, including
IEEE 1159, IEC 61000-4-30 Class A and EN50160.
A statistical output is produced to quickly verify
compliance with international quality-of-supply
standards and benchmark power quality.
Harmonics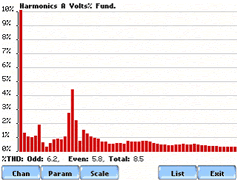 The Power Xplorer captures detailed
harmonics, interharmonics and subharmonics
to effectively troubleshoot the complex problems
caused by these events.