Power Quality, Demand & Energy Monitoring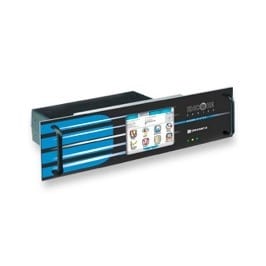 True to its three decade legacy as the industry leader in power quality analysis, Dranetz proudly offers Encore® Series permanent monitoring system for power quality, energy and demand, and process monitoring. Encore® Series 61000 family of DataNodes has a configurable design that allows users to specify the right instrument configuration for their specific application. All this flexibility in one instrument, combined with the multi-user web interface of PQView DE software and available local 1/4 VGA color touch screen display, truly make Encore® Series the right product for your application.
61STD DataNode shown with available rack mount with 1/4 VGA color touch display and available mounting.
4 ch Voltage Module
4 ch Current Module
8 ch Digital Input Module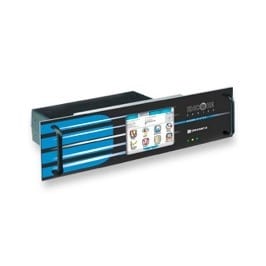 Groundbreaking Innovation
Encore Series 61000 DataNodes are the first truly modular and configurable instruments to shatter the traditional 8-channel (4 voltage/4 current) instrument format. Now you can have your choice of (4 channel) voltage, (4 channel) current and (8 channel) digital input modules. You will save money, prevent integration aggravation and gain physical space by combining up to four modules in one instrument for applications that previously required two or more instruments. Popular combinations are: • 8 channel traditional power and PQ monitoring: 1 Voltage & 1 Current module • 16 channel equipment performance (I/O) monitoring: 2 Voltage & 2 Current modules • 16 channel substation feeder monitoring: 1 Voltage & 3 current modules The 61000 DataNode enables you to combine modules in software to build your own instrument with up to four virtual analyzers. Virtual analyzers are either individual modules working as independent analyzers or combinations of modules such as when combining Voltage & Current modules to create a power quality, demand & energy analyzer.
Encore Series is perfect for ongoing monitoring to determine compliance with worldwide standards such as EN 50160 and your own specialized compliance requirements. Encore Series voltage modules are certified by an independent laboratory for Class A compliance with IEC 61000-4-30. You can be confident that Encore Series measurements are accurate and repeatable and that they meet the most stringent requirements.
Available in both standard and switchgear mount enclosures, the 61000 family of DataNodes can be used in a wide variety of applications. Choose the appropriate mainframe, then add the modules that meet your application. The switchgear version is available with a 1/4 VGA color touch display (61SGD) or without display (61SG). The standard enclosure (61STD) is a stand alone instrument available with a rack mount (with or without 1/4 VGA touch display), wall mounting brackets and weather resistant enclosures to meet the most severe operating environments.
The Guide PS Series high-performance thermal camera is designed to make the inspection, maintenance and troubleshooting work easier, faster and more accurate.
V3 Transmission Line Monitoring System
Conductor sag and vertical clearance from ground for each individual phase
Horizontal conductor displacement/blowout for each individual phase
Conductor tension
Conductor temperature
Circuit current
MW, MVAR, MVA and Power Factor
Icing alerts
Galloping alerts
Local ambient weather conditions
Anomalous motion alerts
User configurable alert notifications
Battery Operated Crimpers (LEC-U27)
Height : 323 mm
Weight : 6.1 kgs (w/o battery)
■ Specifications :
Drive unit : 18V DC motor
Charger (GS/CE) :
Input voltage : 110V single phase AC
Input voltage : 230V single phase AC
Input frequency : 50~60Hz
Input current : 21.75 VA
Reservoir capacity : 120 cc