Circuit Breaker Analyzer Test Set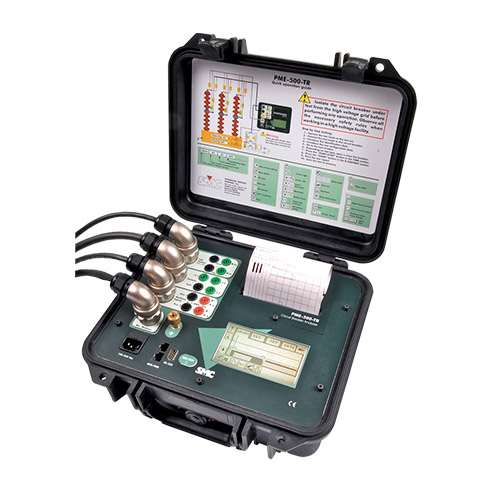 The PME-500-TR is an extraordinary forward step in the concept of circuit breaker test equipment, due to its simple and easy control method. The equipment saves time and improves testing productivity.
CHARACTERISTICS
• 5 time measurement inputs.
• Programmable test sequences: C, O, C-O, O-C, C-O-C, O-C-O
• Pure DC injection for contact resistance measurement.
• Test sequence can also be triggered remotely.
• Built in thermal graphic printer.
• Non-volatile storage of up to 60 tests.
• Results can be downloaded to a Windows PC.
• Built-in rechargeable batteries up to 10-hour autonomy.
• LCD touch-sensitive control panel with multi-language menus and graphical results display.
• Test leads & accessories, PC software, transport bag, calibration certificate and user's manual included.
• Weight: 8 kg.
APPLICATIONS
• Open- and Close-time measurement in main and auxiliary contacts.
• Graphical and numerical evaluation of coil currents.
• Three-phase, 4-wire measurement of contact resistance.
• Substation's auxiliary DC supply condition evaluation.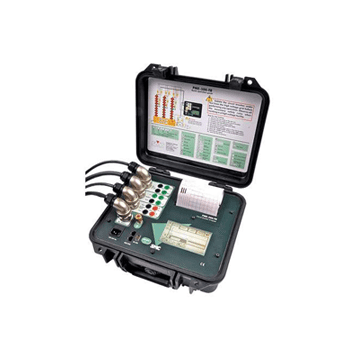 Immediate graphic display of the test results.
Allows the setup of the test data and test configuration from the touch screen panel with on-screen touch keyboard.
Reduced size and light weight.
The Guide PS Series high-performance thermal camera is designed to make the inspection, maintenance and troubleshooting work easier, faster and more accurate.
V3 Transmission Line Monitoring System
Conductor sag and vertical clearance from ground for each individual phase
Horizontal conductor displacement/blowout for each individual phase
Conductor tension
Conductor temperature
Circuit current
MW, MVAR, MVA and Power Factor
Icing alerts
Galloping alerts
Local ambient weather conditions
Anomalous motion alerts
User configurable alert notifications
Battery Operated Crimpers (LEC-U27)
Height : 323 mm
Weight : 6.1 kgs (w/o battery)
■ Specifications :
Drive unit : 18V DC motor
Charger (GS/CE) :
Input voltage : 110V single phase AC
Input voltage : 230V single phase AC
Input frequency : 50~60Hz
Input current : 21.75 VA
Reservoir capacity : 120 cc