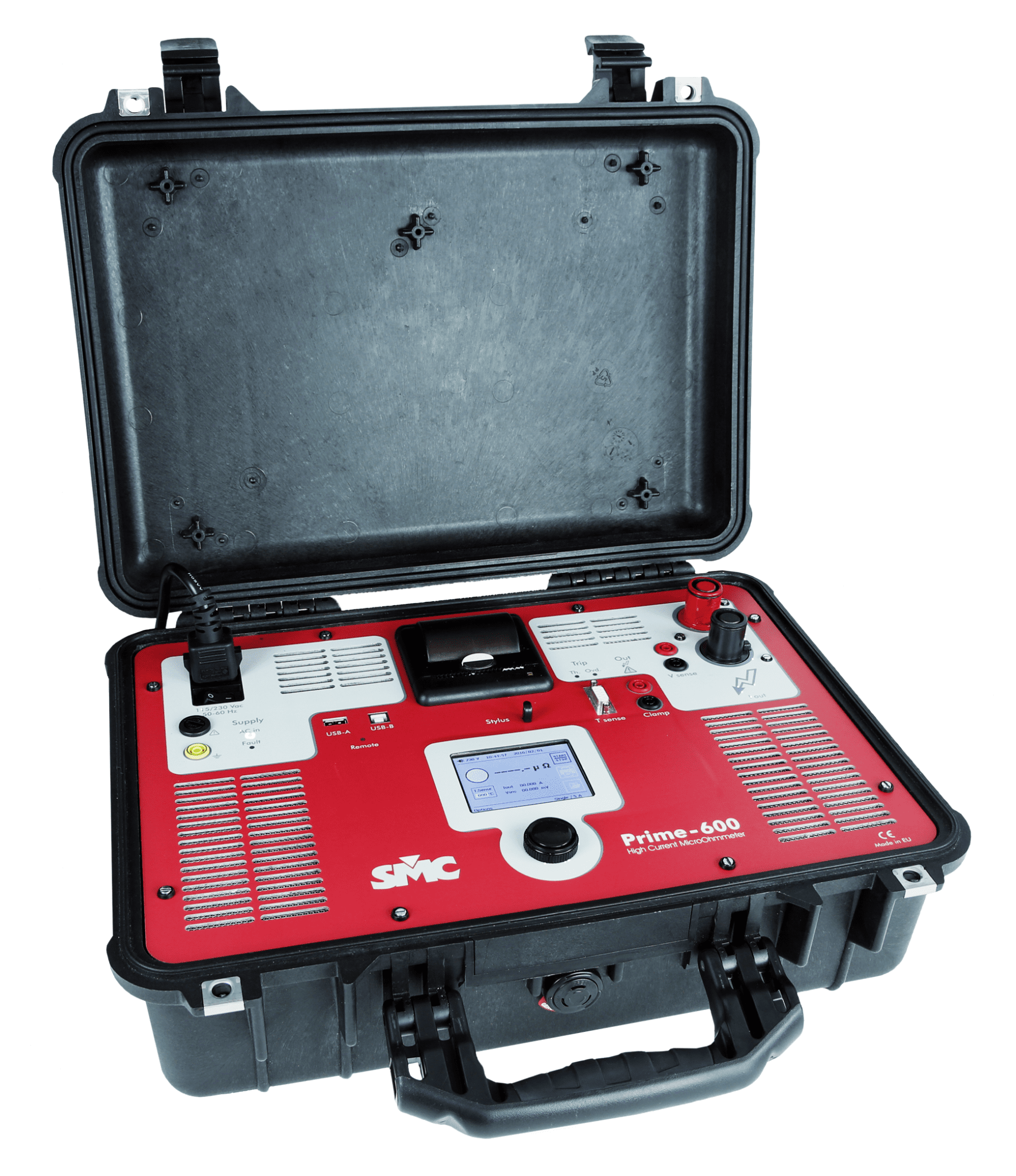 The PRIME 600 is a micro ohm meter that integrates both the contact resistance and the dynamic resistance measurement (DRM) as stand-alone unit; the dynamic resistance test, which is essential in analyzing the wear of the arcing contacts in SF6 and vacuum breakers, is a function never found before in micro ohmmeters / ductors, so that with the PRIME is not required to combine several equipment for the complete static and dynamic resistance analysis, becoming an ideal option for circuit breaker testing.
CHARACTERISTICS
• Dynamic Resistance Measurement
• Dual ground operation
• Automatic de-magnetization function
• Alert on connection mistakes
• Touch-sensitive graphical display
• Pre-defined test modes
• Built-in thermal printer
• Removable USB storage
• PC download and reporting
• Sturdy, water proof ABS casing, IP67
APPLICATIONS
• Circuit breaker contact resistance measurement according to ANSIC37.09-1979 (5.14), IEC 1208 and IEC 694 (6.4) standards
• Quick, efficient condition evaluation of arc contacts in SF6 and vacuuminsulated circuit breakers
• Assessment of connection quality in cable attachments, bus bars andany conductive junctures in electrical installations
• Transformer / motor / turbine winding resistance measurement
• Continuity in switches, earth connections, welding points, fuses, etc.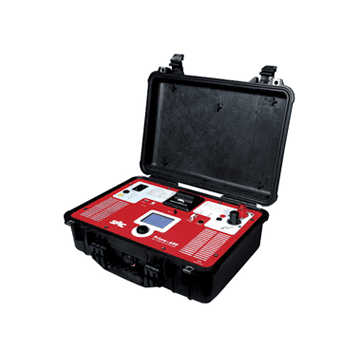 Dual Ground operation, a derived current input that measures the current flowing across the earth circuit when both sides of the measured point are grounded
Dynamic Resistance Measurements, perform a series of measurements very quickly across a fast moving contact, like those found in circuit breakers
Pre-defined test mode, The MODE CONFIGURATION screen provides a simple, straightforward access to 5 pre-defined operation modes, including the Dynamic Resistance Measurement mode and a few user preferences
The Guide PS Series high-performance thermal camera is designed to make the inspection, maintenance and troubleshooting work easier, faster and more accurate.
V3 Transmission Line Monitoring System
Conductor sag and vertical clearance from ground for each individual phase
Horizontal conductor displacement/blowout for each individual phase
Conductor tension
Conductor temperature
Circuit current
MW, MVAR, MVA and Power Factor
Icing alerts
Galloping alerts
Local ambient weather conditions
Anomalous motion alerts
User configurable alert notifications
Battery Operated Crimpers (LEC-U27)
Height : 323 mm
Weight : 6.1 kgs (w/o battery)
■ Specifications :
Drive unit : 18V DC motor
Charger (GS/CE) :
Input voltage : 110V single phase AC
Input voltage : 230V single phase AC
Input frequency : 50~60Hz
Input current : 21.75 VA
Reservoir capacity : 120 cc