One Phase Current and Voltage Relay Testing (With Variable Voltage, Frequency and Phase Angle Display)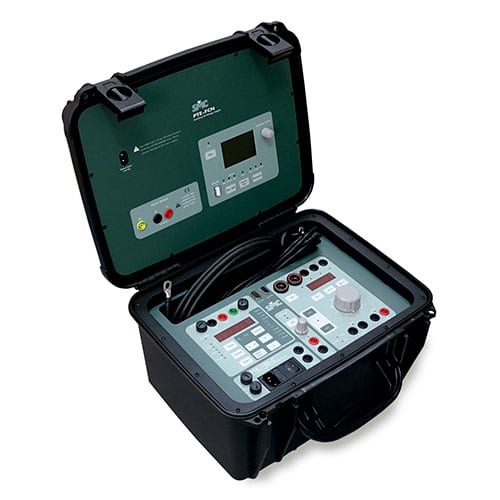 The values which are presented in the LCD display are highly accurate, easy to read, and independent of the injection made by the PTE-100-C base unit.
CHARACTERISTICS
• 0 to 250 A variac-regulated, digitally controlled AC current output.
• 0 to 140 VAC electronic voltage channel.
• Voltage phase angle regulation from 0 to 360° with a resolution of 0.1°.
• Voltage frequency regulation from 40 to 70 Hz with a resolution of 0.1 Hz.
• Independent, stabilized and electronically protected auxiliary 0 to 250 V DC source.
• Complete set of measurement and automation functions.
• Programmable 1-ms resolution digital chronometer.
• IP-65 casing, CE mark.
• 15.5 kg
• 200 x 300 x 200 mm.
APPLICATIONS
• Single-phase testing of relays:
• Definite and inverse time over current.
• Min/max AC / DC voltage.
• Directional over current.
• Frequency.
• Distance.
• Synchronizing.
• Volts / Hz
• Directional power.
• Loss of Field.
• Reverse Phase.
• Negative sequence over current.
• Reverse phase / voltage.
• Thermal.
• Power factor.
• Overvoltage.
• Earth detection.
• Phase angle, Out of Step.
• AC / DC reclosing.
• Directional voltage and power.
• Moulded Case Breakers (MCB, MCCB) testing.
• CT Knee-point analysis and many other accurate electrical measurements.
• Three-phase testing when combined with other PTE-range equipment.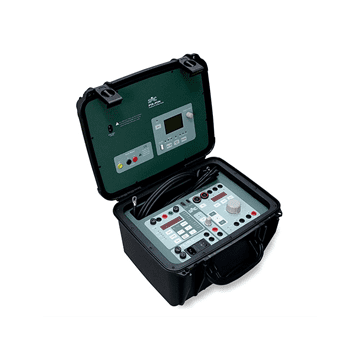 Voltage, frequency and phase angle display
Adjustable voltage: 0-140 V, 40-70 Hz, 0-359.9°
Frequency reference selection
Multi-function knob (amplitude, angle, frequency)
Fine / coarse adjustment selection
Interconnection feature, The PTE-100-C can be linked to any other members of the PTE family by means of the EuroSMC's exclusive PTE BUS
Measurement functions set
Special control functions
The Guide PS Series high-performance thermal camera is designed to make the inspection, maintenance and troubleshooting work easier, faster and more accurate.
V3 Transmission Line Monitoring System
Conductor sag and vertical clearance from ground for each individual phase
Horizontal conductor displacement/blowout for each individual phase
Conductor tension
Conductor temperature
Circuit current
MW, MVAR, MVA and Power Factor
Icing alerts
Galloping alerts
Local ambient weather conditions
Anomalous motion alerts
User configurable alert notifications
Battery Operated Crimpers (LEC-U27)
Height : 323 mm
Weight : 6.1 kgs (w/o battery)
■ Specifications :
Drive unit : 18V DC motor
Charger (GS/CE) :
Input voltage : 110V single phase AC
Input voltage : 230V single phase AC
Input frequency : 50~60Hz
Input current : 21.75 VA
Reservoir capacity : 120 cc