Multifunctional Primary Testing System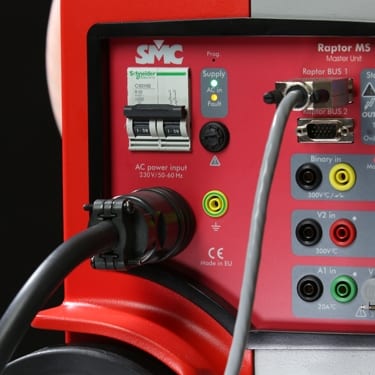 The simplest Raptor configuration gathers a comprehensive set of resources and test functions in an ultra compact, remarkably portable 77-lb (35 kg) body: master unit, detachable touch-screen console, voltage and current measurement inputs, dual voltage / current test source, binary input, and a 3-kVA digital amplifier for a maximum 9,500 A current injection with variable frequency. A large diversity of test jobs can be accomplished, including circuit breaker and re-closer testing, ground grid integrity verification, transformer saturation analysis, burden and ratio measurement, and more.
CHARACTERISTICS
• Compact and lightweight.
• Integral wheels and handle.
• Dynamic output stabilization.
• Multi-functionality.
• Expandability.
• Convenient and efficient pass-through technique.
• Pre-configured tests
• Test & results storage, download and reporting
• Internet connection
APPLICATIONS
• Primary current injection testing.
• Relay testing.
• Current Transformer testing.
• Recloser and Sectionalizers.
• Switchgear Testing.
• Heat runs.
• Ground Grid testing.
Max. Current Permanent: 3800 A/3 KVA
Max. Current 3 Minutes: 7500 A/3 KVA
Max. Current 3 Seconds: 9500 A/2 KVA
Compliance Voltage Range: 1.2 - 0.22 V
Automatic output regulation with digital technology
Multifunctionality for most primary injection testing
Instant combination of units by infrared
Loop-through high current technique
Flexible modularity and adaptability
Modern, robust and upgradeable technology
Smart handheld controller with touch screen
The Guide PS Series high-performance thermal camera is designed to make the inspection, maintenance and troubleshooting work easier, faster and more accurate.
V3 Transmission Line Monitoring System
Conductor sag and vertical clearance from ground for each individual phase
Horizontal conductor displacement/blowout for each individual phase
Conductor tension
Conductor temperature
Circuit current
MW, MVAR, MVA and Power Factor
Icing alerts
Galloping alerts
Local ambient weather conditions
Anomalous motion alerts
User configurable alert notifications
Battery Operated Crimpers (LEC-U27)
Height : 323 mm
Weight : 6.1 kgs (w/o battery)
■ Specifications :
Drive unit : 18V DC motor
Charger (GS/CE) :
Input voltage : 110V single phase AC
Input voltage : 230V single phase AC
Input frequency : 50~60Hz
Input current : 21.75 VA
Reservoir capacity : 120 cc