Multifunctional Primary Testing System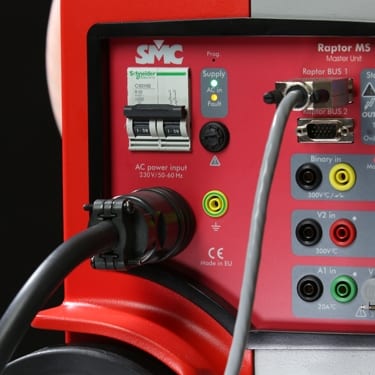 The simplest Raptor configuration gathers a comprehensive set of resources and test functions in an ultra compact, remarkably portable 77-lb (35 kg) body: master unit, detachable touch-screen console, voltage and current measurement inputs, dual voltage / current test source, binary input, and a 3-kVA digital amplifier for a maximum 9,500 A current injection with variable frequency. A large diversity of test jobs can be accomplished, including circuit breaker and re-closer testing, ground grid integrity verification, transformer saturation analysis, burden and ratio measurement, and more.
CHARACTERISTICS
• Compact and lightweight.
• Integral wheels and handle.
• Dynamic output stabilization.
• Multi-functionality.
• Expandability.
• Convenient and efficient pass-through technique.
• Pre-configured tests
• Test & results storage, download and reporting
• Internet connection
APPLICATIONS
• Primary current injection testing.
• Relay testing.
• Current Transformer testing.
• Recloser and Sectionalizers.
• Switchgear Testing.
• Heat runs.
• Ground Grid testing.
Max. Current Permanent: 3800 A/3 KVA
Max. Current 3 Minutes: 7500 A/3 KVA
Max. Current 3 Seconds: 9500 A/2 KVA
Compliance Voltage Range: 1.2 - 0.22 V
Automatic output regulation with digital technology
Multifunctionality for most primary injection testing
Instant combination of units by infrared
Loop-through high current technique
Flexible modularity and adaptability
Modern, robust and upgradeable technology
Smart handheld controller with touch screen
Battery Operated Crimpers (LEC-U27)
Height : 323 mm
Weight : 6.1 kgs (w/o battery)
■ Specifications :
Drive unit : 18V DC motor
Charger (GS/CE) :
Input voltage : 110V single phase AC
Input voltage : 230V single phase AC
Input frequency : 50~60Hz
Input current : 21.75 VA
Reservoir capacity : 120 cc
Battery Operated Crimpers (LEC-40)
Height : 389 mm
Weight : 6.0 kgs (w/o battery)
■ Specifications :
Drive unit : 18V DC motor
Charger (GS/CE) :
Input voltage : 110V single phase AC
Input voltage : 230V single phase AC
Input frequency : 50~60Hz
Input current : 21.75 VA
Reservoir capacity : 120 cc
Hydraulic Cutters (HYSC-45)
Length : 683 mm
Weight : 6.7 kgs
■ Specifications :
Max pressure : 700 bar
Oil required : 70 cc
Max output : 10.73 tons / 95.5 kN