PORTABLE FAULT LOCATION SYSTEM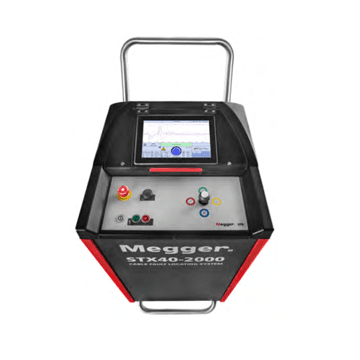 True portable outdoor-ready unit, IP 43

Very easy to use "turn&click" single  rotary knob interface

Surge/Thump energy 2,000 Joule

DC testing up to 40 kV, surging/thumping  up to 32 kV, burning up to 40 kV

Prelocation methods: Inductive ARM with Multishot, ICE and DECAY

Built-in safety circuits for earth connection monitoring (F-Ohm) and touch potential monitoring (F-Voltage)

Full TDR control of all HV functions
The STX40 is the most powerful and most modern port-able fault location system in the market. It is ideally suited for proof testing, analysing, prelocating and pinpointing of faults on extruded low voltage and medium voltage XLPE- and EPR-insulated cables. With its 40 kV DC source and a potent high frequency burner it is also highly capable and effective on PILC cables as well.
The STX40 is fully automated with motorised HV switches controlled by either the rotary knob or the industry-grade colour touchscreen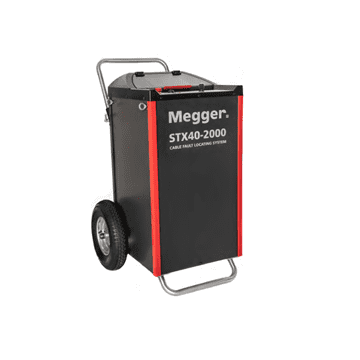 Lightweight, rainproof outdoor field-ready
Bright, sunlight proof 10.1"
To identify different types of faults
Surging/Thumping at 8/16/32 kV with 2000 J
Very effective high frequency burner
The Guide PS Series high-performance thermal camera is designed to make the inspection, maintenance and troubleshooting work easier, faster and more accurate.
V3 Transmission Line Monitoring System
Conductor sag and vertical clearance from ground for each individual phase
Horizontal conductor displacement/blowout for each individual phase
Conductor tension
Conductor temperature
Circuit current
MW, MVAR, MVA and Power Factor
Icing alerts
Galloping alerts
Local ambient weather conditions
Anomalous motion alerts
User configurable alert notifications
Battery Operated Crimpers (LEC-U27)
Height : 323 mm
Weight : 6.1 kgs (w/o battery)
■ Specifications :
Drive unit : 18V DC motor
Charger (GS/CE) :
Input voltage : 110V single phase AC
Input voltage : 230V single phase AC
Input frequency : 50~60Hz
Input current : 21.75 VA
Reservoir capacity : 120 cc