Portable Time Domain Reflectometer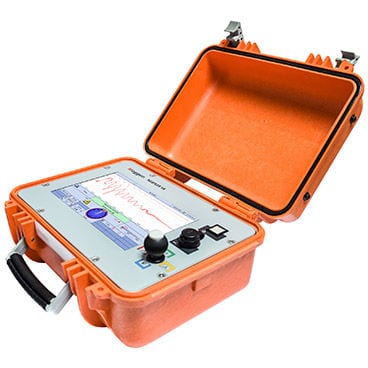 The Teleflex® SX-1 is a portable 2-channel time domain reflectometer (TDR) designed to provide quick, effective, accurate and safe prelocation of faults in cable installations.Operation of the instrument is via a single jog dial and an intuitive, well-proven piechart interface. The large and bright colour display with touchscreen functionality further enhances operator comfort and supports rapid and accurate results.
Standalone operation or operation in conjunction with surge wave generators (thumpers)
Single jog dial operation with piechart interface and No-User-Intervention Auto mode ARM®
Multishot technology with 15 fault traces per arc reflection shot
ProRange distance-dependent de-attenuation for significantly improved images of far-away reflections
Supports all existing HV prelocation methods
Auto-ranging cable end recognition, Auto-find cursor to fault position
Rugged, robust, outdoor field-ready case
All arc reflection methods
ICE (impulse current decoupling)
DECAY (voltage decoupling)
Differential measurement and phase comparison
Symmetrical & unsymmetrical TDR measurement
Two-channel TDR measurement
IFL (intermittent fault locating)
Partial discharge pinpointing
The Guide PS Series high-performance thermal camera is designed to make the inspection, maintenance and troubleshooting work easier, faster and more accurate.
V3 Transmission Line Monitoring System
Conductor sag and vertical clearance from ground for each individual phase
Horizontal conductor displacement/blowout for each individual phase
Conductor tension
Conductor temperature
Circuit current
MW, MVAR, MVA and Power Factor
Icing alerts
Galloping alerts
Local ambient weather conditions
Anomalous motion alerts
User configurable alert notifications
Battery Operated Crimpers (LEC-U27)
Height : 323 mm
Weight : 6.1 kgs (w/o battery)
■ Specifications :
Drive unit : 18V DC motor
Charger (GS/CE) :
Input voltage : 110V single phase AC
Input voltage : 230V single phase AC
Input frequency : 50~60Hz
Input current : 21.75 VA
Reservoir capacity : 120 cc