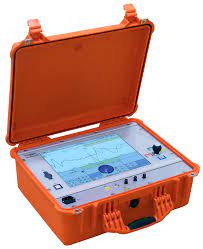 As with all Teleflex reflectometers, the VX is specially de-signed for the rapid processes of power cable fault location. The new hardware offers significantly improved parameters including sampling rate, pulse width and pulse amplitude, resulting in a wider range, higher resolution and above all, improved measurement.The ΔU Trigger technology always provides the perfect trig-ger timing. The ARMslide method records 15 traces in one shot and allows the selection of the best trace, especially for wet and long cables. The ProRange function allows for range-based gain adjust-ments, displaying distant reflections with the same ampli-tude as from short distances. Data can be easily transferred using the USB interface, either in MeggerBook Cable software format, a PDF or directly to a printer.The Teleflex VX can also be integrated into a system via the Ethernet, which allows for simple remote control in offshore applications and ROVs.
Bright and large display
Easiest operation via self guiding and explaining menus
ARM Multishot technology
Automatic storage of all results
Supports all existing prelocation technologies
Automatic detection and display of cable end and fault position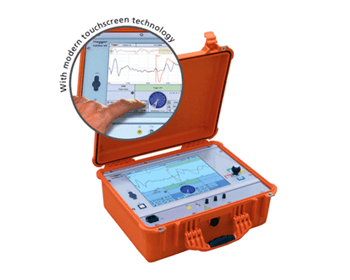 Automatic end and fault detection
Easiest operation via intuitive menus + touch
ProRange for optimised display of distant details
Automatic storage of all measurements
Supports all existing prelocation technologies
The Guide PS Series high-performance thermal camera is designed to make the inspection, maintenance and troubleshooting work easier, faster and more accurate.
V3 Transmission Line Monitoring System
Conductor sag and vertical clearance from ground for each individual phase
Horizontal conductor displacement/blowout for each individual phase
Conductor tension
Conductor temperature
Circuit current
MW, MVAR, MVA and Power Factor
Icing alerts
Galloping alerts
Local ambient weather conditions
Anomalous motion alerts
User configurable alert notifications
Battery Operated Crimpers (LEC-U27)
Height : 323 mm
Weight : 6.1 kgs (w/o battery)
■ Specifications :
Drive unit : 18V DC motor
Charger (GS/CE) :
Input voltage : 110V single phase AC
Input voltage : 230V single phase AC
Input frequency : 50~60Hz
Input current : 21.75 VA
Reservoir capacity : 120 cc