Nickel Cadmium Fibre Positive and Pasted Negative Batteries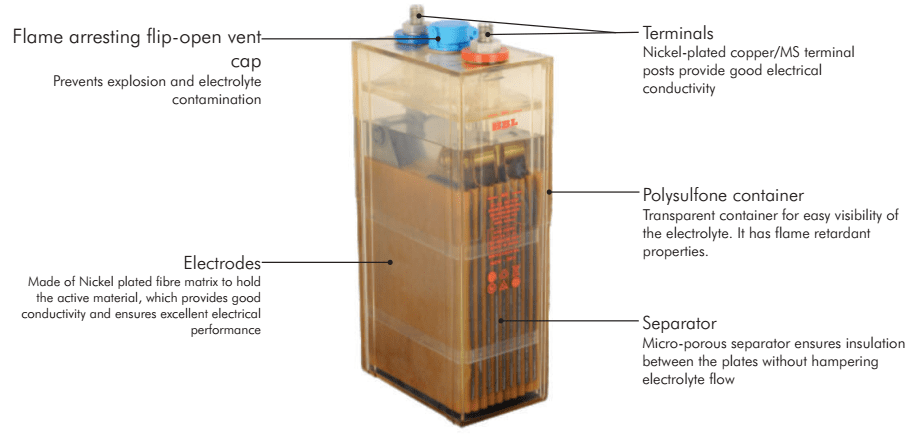 HBL Nickel cadmium FRM, FRX series are constructed using Fibre positive and Pasted negative electrodes.
Nickel cadmium FRM, FRX series are constructed using Fibre positive and Pasted negative electrodes.
Nickel Cadmium Fibre electrode batteries may be seen as 3rd generation (1980's) technology. Pocket plate is 1st generation (1919) and Sintered Plate is 2nd generation (1950's). The Fibre Electrode Technology has been provided by DAUG, Germany (research venture of Mercedes Benz & Volkswagen).
The Nickel Fibre matrix used for the fibre plate allows 90% of the electrode volume for holding the active material. The open three dimensional fibre structure also provides good conductivity to ensure excellent electrical performance.
Nickel Cadmium Fibre plate technology uses active material free from graphite and iron. Elimination of these elements ensures that the electrolyte does not get carbonated and reduces water consumption.
The elastic nature of NCFP electrode enables it to absorb greater shock and vibration stresses. This includes volume changes during charge and discharge cycles, hence the battery can give more number of cycles compared to other battery technologies. The NCFP technology is considerably lighter in weight and hence has high energy density.
The pasted negative electrode are designed with high power density and has less water consumption, thus reduces the periodicity of topping –up the cells with DI water. The sintered micro-porous separators and membrane separators provide insulation between the plates and permits free flow of electrolyte.
These batteries are built in polypropylene containers to which lids are thermally welded to withstand impact resistance. This type of cells are translucent in nature, so electrolyte levels can be visualized. Flame retardant containers in the other hand are Opaque in nature, so the levels of electrolyte is not visible. If requested by the customer, flame retardant cells can be offered.,
Steel or Copper terminals and fasteners give these batteries the ruggedness required to meet the demanding application needs. Single cells are provided with reliable flame-arresting vents and are assembled in stainless steel crates for easy handling.
Lighter than conventional lead acid batteries.
No topping-up with water required for long periods.
Low life cycle cost when compared to conventional lead acid battery.
Low initial cost when compared to Nickel cadmium sintered plate technology.
Can withstand extreme temperatures without damage.
Performs even at extremely low temperatures (less than –20 deg C)
Service life will be longer.
Number of cycles will be greater (around 3000 cycles)
No change of electrolyte during its lifetime.
The Guide PS Series high-performance thermal camera is designed to make the inspection, maintenance and troubleshooting work easier, faster and more accurate.
V3 Transmission Line Monitoring System
Conductor sag and vertical clearance from ground for each individual phase
Horizontal conductor displacement/blowout for each individual phase
Conductor tension
Conductor temperature
Circuit current
MW, MVAR, MVA and Power Factor
Icing alerts
Galloping alerts
Local ambient weather conditions
Anomalous motion alerts
User configurable alert notifications
Battery Operated Crimpers (LEC-U27)
Height : 323 mm
Weight : 6.1 kgs (w/o battery)
■ Specifications :
Drive unit : 18V DC motor
Charger (GS/CE) :
Input voltage : 110V single phase AC
Input voltage : 230V single phase AC
Input frequency : 50~60Hz
Input current : 21.75 VA
Reservoir capacity : 120 cc