Universal Relay Testing System
ADVANCED TEST FUNCTIONS
The most complete Built-in Test functions, with on-screen graphic configuration, to carry out typical test for protection relays and protection schemes. These tests allows determining the state of the relay and obtaining readings and results of different relay parameters under different test conditions, configured by the user. A Logger is available for all functions, to carry out an in-depth study of the performance of the relay tested throughout the function.
CHARACTERISTICS
Stand-alone functionality, without pc

Easy and intuitive touch screen

Up to 12 currents and up to 6 voltages

Modular concept, adapted to user needs

Voltages convertible to current

Advanced built-in test tools

Iec 61850 testing capabilities
APPLICATIONS
Secondary current injection testing.

Protection relays testing.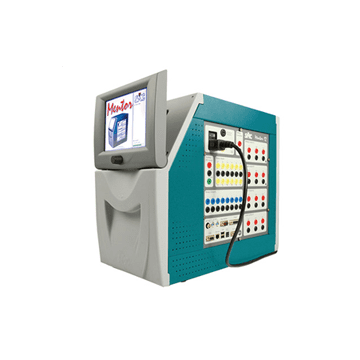 Measurement display: multifunction timer
Function keys: channel selection
Battery simulator: Auxiliary DC supply
I/O states: monitoring of power sources
On-screen access to Alarms reports.
Real-time representation of power vectors.
Timer operation/trip setup and preferences
External measurement configuration
Hardware configuration and maintenance
The Guide PS Series high-performance thermal camera is designed to make the inspection, maintenance and troubleshooting work easier, faster and more accurate.
V3 Transmission Line Monitoring System
Conductor sag and vertical clearance from ground for each individual phase
Horizontal conductor displacement/blowout for each individual phase
Conductor tension
Conductor temperature
Circuit current
MW, MVAR, MVA and Power Factor
Icing alerts
Galloping alerts
Local ambient weather conditions
Anomalous motion alerts
User configurable alert notifications
Battery Operated Crimpers (LEC-U27)
Height : 323 mm
Weight : 6.1 kgs (w/o battery)
■ Specifications :
Drive unit : 18V DC motor
Charger (GS/CE) :
Input voltage : 110V single phase AC
Input voltage : 230V single phase AC
Input frequency : 50~60Hz
Input current : 21.75 VA
Reservoir capacity : 120 cc